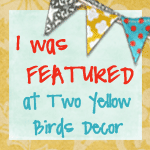 Are you familiar with the blog
Sew Much Ado
? If not, you should be!!! I have never bought one of her patterns before, but I have used several of her tutorials. The tutorials are so fantastic, the quality of her patterns must be amazing.
I used her Infant Peasant Dress tutorial to make a few little dresses for the twins. I love the simple design and the use of elastic. It's going to make it ssssooooo easy to put these on and take them off!
I believe I ordered this material from
Pick Your Plum
when it was one of their daily deals. It's one of those great sites that posts a new deal everyday. It's often baker's twine, basic wardrobe pieces, blank jewelry or crafts. When I decided to make these dresses and was digging through my material stash, these prints seemed perfect. Adorable, but soft. Something that won't over-power two little girls.
BTW - I'm not getting paid by Sew Much Ado or Pick Your Plum. I just want to share two sites with you I love!