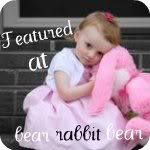 A friend borrowed some patterns for infant/toddler clothes to me. One was Simplicity Pattern #5316 which included an adorable hooded vest and winter hat. I found some cozy giraffe print fleece at
JoAnns
, and went to work.
I started with the hat and it came together pretty quickly. It was my first time working with patterns using notches, so it took me a few minutes to figure them out, but otherwise it was a simple pattern. (Not that notches aren't simple, they were just new to me.)
Then I moved on to the vest. It's a cute little hooded vest with pockets on the front. It was a FANTASTIC learning experience. It was my first time sewing a hood, pockets, working with bias tape, and adding a zipper. I was happy with the results!
Playing in the first snow of the year. There wasn't much, but
we made it count!